Anoop Shekar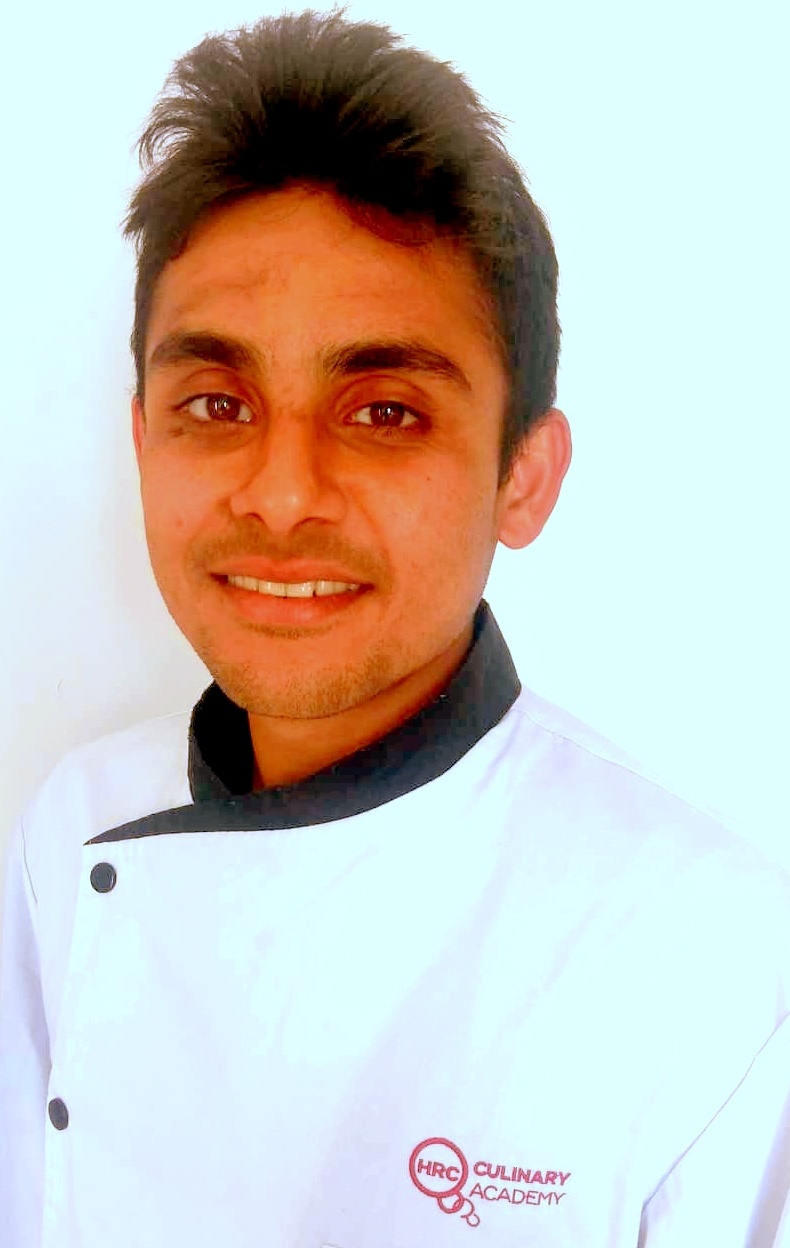 # 13 Via Domenico de Dominicis, 00159 Rome, Italy
Tel                         :   +39 3913561142
Email                    :   anoopshekar.ppa@gmail.com
Website               :    www.anoopshekar.com
Nationality          :    Indian
DOB                      :    04 June 1986
Permesso
Di Soggiorno     :    Roma, Italia
OBJECTIVE
To intensely immerse myself into a kitchen team to absorb and augment the creative vision of a restaurant and hotel through focused hard work, intelligence, passion and unwavering intention.
EDUCATION
1. HRC Culinary Academy, Sofia, Bulgaria                                                       2019 – 2020
     Full Professional Certificate
1 year intensive program taught in English
Courses: Introduction to Hospitality, Food safety and hygiene, Kitchen theory, Kitchen laboratory classes in both hot kitchen and pastry.
2. University of Rome, Rome, Italy                                                                       2015 –
     Master of Product Design (M.Sc.)                                                           [enrolled] 
2 year Architecture and design program taught in English
Courses: Aesthetics, Internet of things, Sustainability, Resource Management
3. Visvesvaraya Technological University, Belgaum, India                         2003 – 2008
     Bachelors in Architecture (B.Arch.)                 
5 Year Architecture and design program taught in English
Courses : Building and Structural design, Heating and ventilation, landscape and Climatology, Materials, Professional Practice, Estimation, Management
WORK EXPERIENCE 
1. Osteria Le Logge, Siena, Italy                     (6 months)                                     Aug 2019-2020
     Intern + Chef De Partie                             (Full-time)                                          +39 0577 48013
120 Seats Italian + Tuscan Restaurant
Lunch & Dinner Service
Responsible for mis en place, service and order list for meat and fish section
Menu eg : Beef cheek with parsnip pureè, Pigeon Laura Peri, pumpkin & bitter almonds, Stuffed rabbit, ham & blueberries, Roasted sea bass, spinach & lemon
2. Promenaden 1932, Copenhagen, Denmark                 (1 Year)               Mar 2018-2019
     Chef De Partie                                                                    (Full-time)                    +45 2612 9994
150 Seats French + Danish Bistro
Breakfast, Lunch & Dinner Service
Responsible for mis en place and service for cold, hot and pastry section on rotation
Menu eg : White Asparagus & Hollandaise, Beef Steak & Béarnaise, Monkfish with Ratatouille, Salmon Tartare & Crème Fraiche, Lemon Tart, Assorted Crème brûlée
3. Brasserie Degas, Copenhagen, Denmark                   (1.5 Years)              Jan 2017-2018
    Commis (promoted to) Chef De Partie                      (Full-time) 
40 Seats French Brasserie
Dinner Service only
Responsible for mis en place and service for entrée and pastry section
Menu eg : Salad Foie Gras, Bouillabaisse & Rouille, Lobster Cannelloni with Madeira sauce, Duck Confit with Champignon a la crème, Duck Breast with red wine sauce, Fondant au Chocolat, Sabayon with Genoise and fruit, Macarons, Gougère
4. Emergency Architecture and Human Rights               (1Year)              2016-2017
      Copenhagen, Denmark                      
     Design Architect                                                                    (Full-time)
Educational institutions, Community Spaces & Modular Housing
Design drawing, Managing the on-site construction team & design interns in the studio
Estimation and acquisition of building material and planning construction schedule 
5. Prashant Pradhan Architects                              (2Years)                                2013-2015
     Gangtok, Sikkim, India                        
    Associate Architect                                                (Full-time) 
Hospitality buildings (Hotels, Resorts, Spa) Kitchen & Restaurant design
Client liaison, Supervision of construction site and junior architects in the studio
Responsible for evaluation of employee performance and training
MISCELLANEOUS
1. Manoir De Botcol, Saint-Nicolas-du-Pélem, France          (1 month)              Dec 2018
     Private Cook        (Part-time) 
Planning menu and cooking dinner for the proprietors (4)
2. Hawila Project, Kastrup, Denmark                                             (3 months)              Jun 2017
    Associate Cook       (Part-time) 
Planning menu and cooking lunch and dinner for 15 member ship crew 
3. Villa Salinara, Marsala, Sicily, Italy                                             (3 months)             Dec 2015
     Private Cook         (Part-time) 
Planning menu and cooking dinner for vacation guests at the Villa 
TRAVEL 
Austria, Belgium, Bhutan, Bulgaria, Czech Republic, Denmark, France, Germany,
India, Italy, Nepal, Netherlands, Slovenia, Sweden, Switzerland, Vatican City State
SKILLS 
 Language
English     (native proficiency)
Italian     (basic)
Hindi   (intermediate)
Kannada   (mother tongue)
Computer
Web, Graphic and Interface Design [Adobe Photoshop]
Drafting and Drawing software [Autodesk Cad]
3D Modelling software  [3ds Max]
Microsoft Office